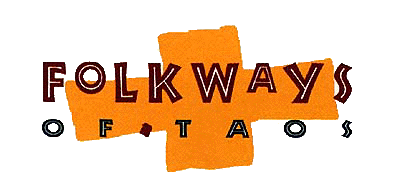 The Zapotec Indians live and weave in a village high in the mountains between Mexico City and Guatemala, where they have remained virtually isolated for thousands of years. They are one of the last remaining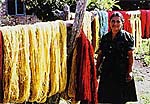 cutures in the world to complete the entire weaving process without the benefit of automation or modern science.
The wool is hand-carded and hand-spun.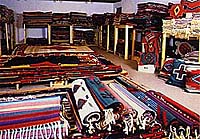 The yarn is spun repeatedly until it is tight and even, thicker than commercial yarn and rich in lanolin. The weave on the final products is tight and of superior quality. The dyes are color fast and permanent.
It is our philosophy at Folkways of Taos that the weavers should have the creative freedom to design their own weavings, as they have done for many generations. Therefore, each weaving that we sell is unique--a one of a kind work of art. So when you order be prepared for small differences in color, size, and design from what is shown here. We will, of course, be happy to meet your specific requirements as best we can.
---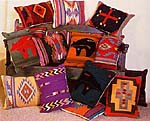 801 Small Pillow 15" x 20" Available in a variety of colors and styles.

---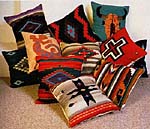 803 Large Pillow 20" x 22" Available in a variety of colors and styles.

---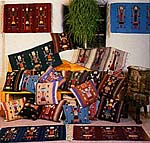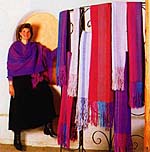 802 Yei Pillow 16" x 18" Yei- (Ya) Zuni Indian design celebrating the harvest of the corn. 401 Yei Rug 22" x 44" A popular southwest look.

---

(Shawl) 24" x 72" Handwoven wool/acrylic shawl. Available in purple, teal, magenta and pastel colors. 100 Rebozo

---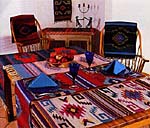 601 Table Runner 15" x 80"

---
501-A Floor/Wall Rug 30" x 60" Our most popular size

---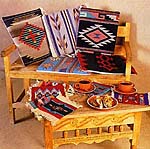 102 Mini-Panel 6" x 9" Great gift item

---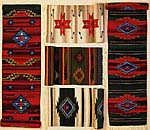 701 Hallway Runner 24" x 120"

---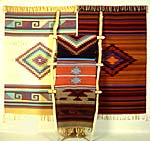 901 Floor/Wall Rug 48" x 72"

---
501-B Floor/Wall Rug 30" x 60" Intricate design, superior colors

---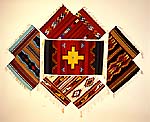 301 Medium Throw Rug 22" x 44"

---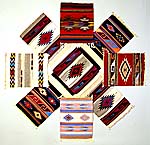 101 Single Panel 15" x 20" Great for pillow cases, place mats.

---
---
The Zapotec | Line of the Spirit | Index
---
When in Taos or Durango please stop by and visit:
117 N. Pueblo del Norte, Taos, NM 87571
640 Main Street, Durango, CO 83101
To order call 1-800-748-1756 or e-mail us.
---