The Zapotec Weavers of Teotitlan
Our weavers live the village of Teotitlan, a village in the southern Mexican state of Oaxaca, where they have woven textiles for hundreds, probably thousands, of generations. The Zapotec, astute traders and wonderfully-talented craftsmen, provided nearly all the high-quality clothing in pre-Hispanic Mesoamerica and have continued that tradition to the present. Although the males purchase the wool, all labor is split among male and female. Even children work when they are not in school, although dyeing of wool is left to the adults because of the danger of scalding by hot water.

The process of making weavings starts with washing the wool in the river (no soap). Then it is dried and carded. After it is spun into yarn, it is dyed, then washed inh the river again and dried. The weaving is done on European horizontal looms, although a few weavers still use the pre-Hispanic backstrap loom.

The weavers use a combination of traditional Zapotec and Navajo designs: diamonds, triangles and rectangles; birds, butterflies, flowers;and pre-Columbian figures and motifs.

Below are some photographs of weavers and village life in Teotitlan. Clicking on any image will bring up a larger version of that image. We hope that you enjoy these pictures as much as we enjoy working with these very special people.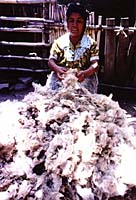 The raw wool is broken into progressively smaller clumps
Then carded and spun.
It is then dyed and washed in the river.
Hung out to dry
and then woven into rugs or tapestries.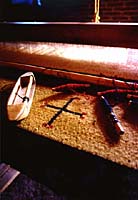 A weaver's tools.
Preparing chicken and making tortillas are part of daily life.
---
Folkways of Taos | Line of the Spirit | Index
---
When in Taos or Durango please stop by and visit:
117 N. Pueblo del Norte, Taos, NM 87571
640 Main Street, Durango, CO 83101
To order call 1-800-748-1756 or e-mail us.
---